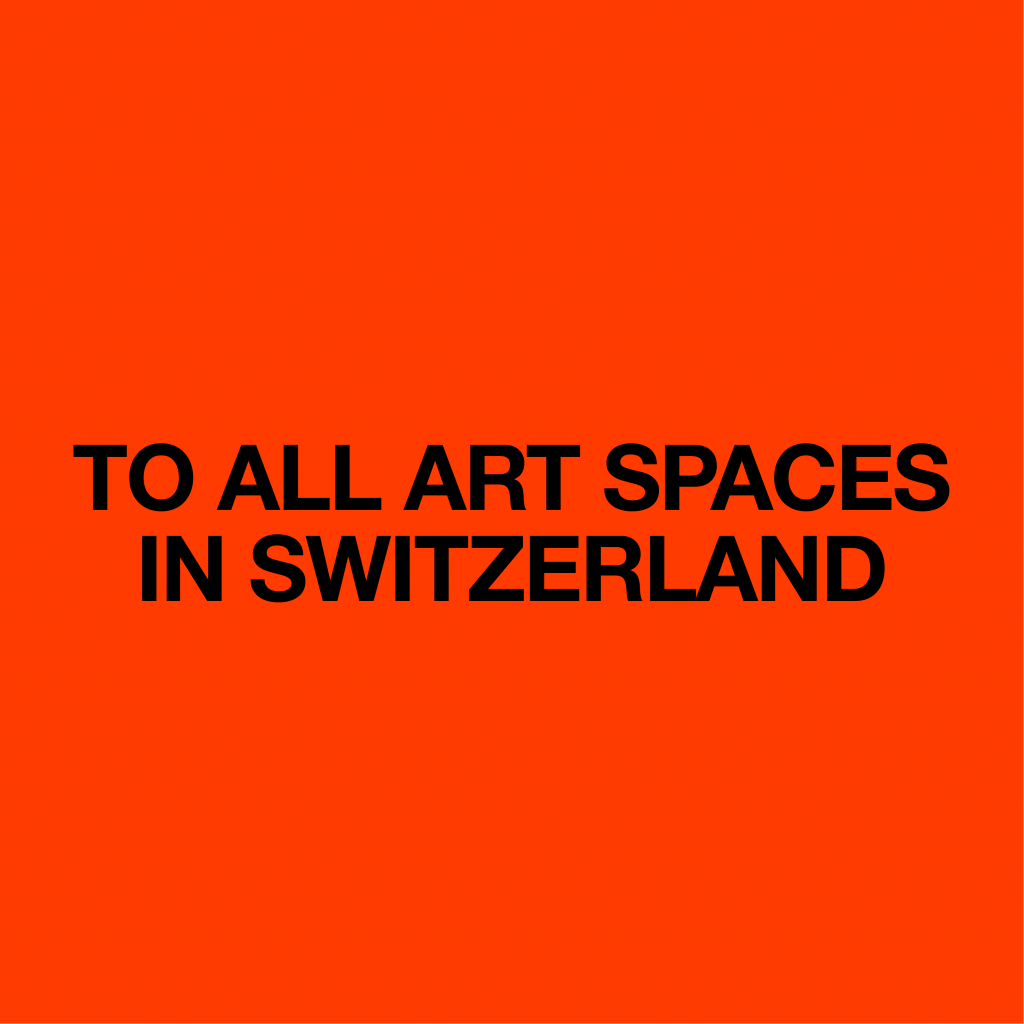 Deutsch siehe unten / Français ci-dessous / Italiano qui sotto
Switzerland, 9 June 2021
On 9. June 2020, we, more than 60 Black art and cultural workers across Switzerland, collectively penned an open letter. At the time, there was a massive global wave of solidarity with the Black Lives Matter movement. Our open letter was specifically addressed to the over 76 Swiss art spaces that had participated in what is now known as #BlackOutTuesday.[1]
In our letter, we expressed that while we appreciate the signaling of support, we are aware that what is now defined as "social media activism"[2] does not usually translate beyond distanced, inactive PR statements. We noted that structural racism—which can surface as microaggressions, explicit racism, gaslighting, exclusionary institutional attitudes and policies, centering whiteness, police brutality, hate crimes, demand for free labour, exotisation and (hyper)sexualisation etc.—is very alive and well, here in Switzerland. As a result, in our daily lives many of us have experienced racism in our professional engagements and interactions as artists and cultural workers.
The addressed art spaces were encouraged to invest more actively in the necessary process to become more anti-racist. As a tool, we included a set of questions created to support the necessary work of identifying biases within one's own structures. We demanded that our addressees share the answers to these questions publicly through their own channels in an effort to encourage other art spaces to practice transparency and accountability.
Since 9. June 2020, out of the 76 addressed art spaces, each of whom had previously declared their solidarity with the Black Lives Matter movement, only 3 have shared their answers publicly. The other 73 institutions provided a panorama of frustrating reactions. This included expecting our free labor in the form of informal meetings instead of soliciting paid consultants on deconstructing racist structures. The most common response by far was simply no response at all.
Unfortunately, this came as no surprise. We have long been familiar with the structural racism and the ongoing silence surrounding white supremacy and anti-Black racism in Switzerland. It is nonetheless very disheartening. In addition, we notice that many artist-run spaces often feel exempt from these conversations as they operate very informally. We are exhausted by the persistent lack of accountability.
Our society in its current form relies on anti-Blackness that has seeped into its structures and culture in a way that cannot be compared to the racism experienced by non-Black People of Color or xenophobia faced by many people of non-Swiss heritages. Oppressions are multifaceted and complex. They need a precise vocabulary. This is why we insist on specificity in our vocabulary by distinguishing anti-Black racism and other forms of discrimination. We do this in an effort to shed light on both the necessary solidarity between Black people and non-Black communities of colour, as well as on the true depth of ever-pervading anti-Blackness. We deploy our understanding of anti-Blackness in order to acknowledge and address intersections of Blackness as experienced in Switzerland. This includes intersecting experiences of Black people, those being colorism, ableism, xenophobia, misogynoir, misgendering, cisheterosexism, classism, transphobia and legal status to name some. Blackness is not a monolith.
This letter was written and signed by individual Black artists and cultural practitioners coming together out of the necessity to address the varying experiences of anti-Black racism in the arts in Switzerland. We are not a collective. Furthermore, we refer to Black artists living or working in Switzerland. The notion that anti-Black racism only affects the livelihood of people with migratory backgrounds and non-Swiss Black practitioners is false. Black Swiss people also exist, and anti-Black racism is a Swiss problem. There is no productive discussion that begins by questioning whether or not racism exists in Switzerland.
Since June 2020, many art spaces have shown their willingness to engage with race as a topic, which can be observed by the significant increase in panel talks and similar public events. We would like to highlight that harmful decisions have been made at several events at the expense of Black art workers. We have encountered a general reluctance to address structural anti-Blackness, which we experience as violent. Individuals among us have had to justify their signatures on our previous letter and have faced defamation. This emphasises and reiterates the need for a deeper confrontation with structural blindspots rooted in white supremacy and resulting in anti-Blackness. We won't accept anti-racism to be co-opted in an attempt to raise the value of one's public profile.
Genuine and profound work can only be done if we, as individuals and constituents of institutions and societies, move beyond defensiveness and guilt. It remains an urgent, necessary process that starts with the commitment by each one of us to unlearn our internalised anti-Blackness, which includes behaviours and actions that are informed by a socialised perception of whiteness as the default. This is because we are born into an inherently racist, anti-Black society. Unlearning this is our most urgent and crucial demand. It is the necessary foundation to all following demands towards material change, as it applies:
Include Black practitioners in programmes. Include them in programmes beyond those that address identity politics, white supremacy, or racism. Commit to an in-depth and nuanced engagement with their artistic work.

Commit to making decisions that are nourishing to the practitioners careers, including fostering relationships with institutions, collectors and writers relevant to the artists and their work. 

Properly archive the works by Black artists across collections. This should be done equally to white cis-male counterparts in collections.

Implementation of a standardized anti-racism clause

[3] across all contracts, which aims to hold employers, employees, commissioners or otherwise contractually bound collaborators accountable.

Professional settings that facilitate environments in which conversations about experienced racism or biases can be held productively, where defensiveness is recognised as harmful, and asking for accountability is understood as a mutually beneficial act. It is crucial that voicing these experiences is taken seriously and does not result in precarity, pigeonholing or defamation.

Implementation of regular assessment sessions across all levels. Subsequent implementation of necessary measures to improve areas of poor performance with defined goals.

Recognition of the need for equity over equality

[4] and tangible working steps towards this.

Semi-annual anti-racism training by paid Black expert consultants.

Publicly accessible anti-racism strategies in all art spaces including a plan of action and requirement of an Equality/Equity, Diversity and Inclusion policy, which are assessed and updated regularly.

Requirement of an anti-racism strategy as a part of recruitment processes for all art professionals, including mediation, PR and HR positions.

Employment of Black art professionals in senior positions and for those professionals to be included in juries for prizes, admissions, open calls, etc.
In our focus on anti-Blackness, it is imperative to pay particular attention to colorism. Dark-skinned Black people with less proximity to whiteness need to be centered in all anti-racist intentions. This includes active assessment of who is given access and platform.
We demand that similar steps are put into place to address bias against all those who suffer under white supremacy and its intersecting oppressions, which include ableism, classism, fatphobia, homophobia, cisheterosexism, ageism, xenophobia, religious discrimination and transphobia.
The work ahead of us remains clear: practices and visions are either oriented towards antiracism or they are not. One can be complacent with the current colonialist system or one can engage in the active process of challenging racist structures and the injustices they perpetuate. There is no in between and it remains an emergency.
In closing, we are artists and cultural practitioners looking to pursue our work in the careers we have chosen. This letter comes from a need for safer professional settings that are free from discrimination. This letter is not a part of our artistic practices.
Best,
A. Schmidt
Adji Dieye
Akosua Viktoria Adu-Sanyah
Alfatih
Alina Amuri
Amaka Madumere
Amissah Joshua
Angelina Yerly
Angélique Tahé
Angie Addo
Anita Maïmouna Neuhaus
Ann Kern
Ben Pauli
Bettina Aremu
Brandy Abrahams
Brandy Butler
Burni Aman
Caribbean Gyal
Cécile Nduhirahe
Cédric Djedje
Chienne De Garde
Damien Hauser
Daniska Tampise Klebo
David Barlow
Debbie Alagen
Deborah Joyce Holman
Deborah Macauley
Diane Keumo
Edwin Ramirez
Élie Autin
Elisabeth Reich
EmmaTheGreat
Esengo
Fatou Dravé
Fork Burke
fupaMagic
Gemma Ushengewe
Ivy Monteiro
Iyo Bisseck
J.A Santschi
James Bantone
Jasmine Gregory
Jeremy Nedd
Jessy Navalona Razafimandimby
JOBB3000
Joël Vacheron
Josh Johnson
Jovita Pinto
Juline Michel
Kaira Adward
Kapo Kapinga Grab
Katerine Omole (KA-RABA)
Kay
Kim Coussée
L. Erin
Larissa Tiki Mbassi
Legion Seven
Leslie
Luisa Wolf
Lynn Aineomugisha
Maïté Chénière
Mandy Abou Shoak
Manutcher Milani
Marc Asekhame
Mark Damon Harvey
Mathias Pfund
Mbene Mwambene
Meloe Gennai
Michelle Akanji
Mirco Joao-Pedro
Mirjam Buergin
Naomi
Nayansaku Mufwankolo
Nebiyah
Nina Emge
Noemi Michel
Ntando Cele
Olamiju Fajemisin
Pascale Gähler
Patrick Gusset
Rabea Lüthi
Rahel El-Maawi
Ramaya Tegegne
Sasha Huber
Sawsane Aysha Hema
Serafina Ndlovu
Serena Dankwa
Sherian Mohammed Forster
Sign Zainab
Songhay Toldon
Soraya Lutangu Bonaventure
Steven Schoch
Suhyene Iddrisu
Tapiwa Svosve
Tara Mabiala
Tayeb Kendouci
Thaïs Diarra
Thelma Buabeng
Tina O. Reden
Tisalie Mombu
Titilayo Adebayo
Tracy September
Tshu-Li
Yann Stephane Biscaut
Yara Dulac Gisler
Yasmina Diallo
Yvonne Apiyo Brändle-Amolo
Black artists and cultural workers based in Switzerland who would like to add their signatures shall contact us: blackartistsinswitzerland@gmail.com
[1]#BlackoutTuesday was a collective action to protest racism and police brutality, staged on social media. "What began as an attempt by two music insiders to pause business as usual across the industry on a Tuesday, in response to the protests sweeping the nation, broadened and morphed overnight on social media into a less focused action, resulting in a sea of black boxes across Instagram and other platforms." https://www.nytimes.com/2020/06/02/arts/music/what-blackout-tuesday.html
[2] https://www.newyorker.com/culture/cultural-comment/the-second-act-of-social-media-activism
[3] Julia Wissert, Sonja Laaser, Banafshe Hourmazdi, Golschan Ahmad Haschemi have developed a draft anti-racism clause tailored specifically for theatre context under German jurisdiction: https://www.antirassismusklausel.de. This can be used as a model and adapted to the contemporary arts context in Switzerland easily.
[4] Equity encourages the use of custom tools that identify, address and correct inequality and resulting access barriers whereas an approach of equality, though based on the belief that everyone should be treated equally, disregards structural barriers and therefore often perpetuates existing inequality.

****
Schweiz, 9 Juni 2021
Am 9. Juni 2020 haben wir, mehr als 60 Schwarze Kunst- und Kulturschaffende aus der ganzen Schweiz, gemeinsam einen offenen Brief verfasst. Zu diesem Zeitpunkt gab es eine massive globale Welle der Solidarität mit der Black Lives Matter Bewegung. Unser offener Brief richtete sich speziell an die über 76 Schweizer Kunsträume, die sich am #BlackOutTuesday[5] beteiligt hatten.
In unserem Brief äußerten wir, dass wir das Zeichen der Unterstützung zwar schätzen, uns aber bewusst sind, dass das, was als "Social-Media-Aktivismus"[6] definiert wird, in der Regel nicht über distanzierte, unbeteiligte PR-Statements hinausgeht. Wir hielten daran fest, dass struktureller Rassismus – in Form von Mikroaggressionen, explizitem Rassismus, Gaslighting, ausgrenzenden institutionellen Haltungen und Politiken, der Zentrierung des Weißseins, Polizeibrutalität, Hassverbrechen, der Forderung nach unbezahlte Arbeit, oder der Exotisierung und (Hyper-)Sexualisierung etc. – in der Schweiz sehr verbreitet ist. Daraus resultierend erleben viele von uns Rassismus in unserem alltäglichen Leben, sowie in unseren beruflichen Engagements und Interaktionen als Schwarze Künstler*innen und Kulturschaffende.  
Angeschriebene Kunsträume wurden ermutigt aktiv zu werden und in die notwendige anti-rassistische Arbeit zu investieren. Als Hilfestellung stellten wir eine Reihe von Fragen, die diese notwendige Arbeit zur Ermittlung von Bias innerhalb der eigenen Strukturen unterstützen sollten. Wir forderten unsere Adressat*innen auf, die Antworten auf diese Fragen über ihre eigenen Kanäle öffentlich zu teilen und dadurch Transparenz und Verantwortung zu praktizieren. 
Seit dem 9. Juni 2020 haben von den 76 angesprochenen Kunsträumen, die sich alle zuvor mit der Black Lives Matter-Bewegung solidarisch erklärt hatten, nur drei ihre Antworten öffentlich geteilt. Die anderen 73 Institutionen lieferten eine Vielfalt von frustrierenden Reaktionen. Darunter die Erwartung unentlohnter Arbeit in Form von informellen Treffen, anstatt bezahlte Berater*innen für die Dekonstruktion rassistischer Strukturen zu engagieren. Von den meisten Institutionen erhielten wir gar keine Antwort.
Leider war dies keine Überraschung denn der strukturelle Rassismus und das fortwährende Schweigen über die weisse Vorherrschaft in der Schweiz sind uns seit langem bekannt. Dennoch waren die Reaktionen sehr ernüchternd. Darüber hinaus stellten wir fest, dass sich viele der kleineren Offspaces oft von diesen Gesprächen und dieser Arbeit ausgenommen fühlen, da sie sehr informell arbeiten. Der Mangel an Verantwortlichkeit und Transparenz ist frustrierend.
Unsere Gesellschaft in ihrer heutigen Form beruht auf Anti-Schwarzem Rassismus, der ihre Struktur und Kultur in einer Weise durchzieht, die nicht mit dem Rassismus, den nicht-Schwarze Menschen of Color erleben, oder mit der Fremdenfeindlichkeit, mit der viele Menschen nicht-Schwarzer Herkunft konfrontiert sind, zu vergleichen ist. Unterdrückungen sind vielschichtig und komplex. Sie brauchen ein präzises Vokabular. Deshalb bestehen wir auf Spezifität in unserem Vokabular, indem wir zwischen Anti-Schwarzen Rassismus und anderen Formen von Diskriminierung unterscheiden. Wir tun dies in dem Bemühen, sowohl die notwendige Solidarität zwischen Schwarzen Menschen und nicht-Schwarzen Communities of Colour, als auch die wahre Tiefe des allgegenwärtigen anti-Schwarzen Rassismus zu beleuchten. Wir setzen unser Verständnis von anti-Schwarzen Rassismus ein, um die verschiedenen Erfahrungen des Schwarzseins, wie sie in der Schweiz erlebt werden, anzuerkennen und anzusprechen. Dies beinhaltet die intersektionalen Erfahrungen Schwarzer Menschen mit Colorism, Ableismus, Xenophobie, Misogynie, Sexismus, Transphobie, Homophobie, Klassismus, oder den Rechtsstatus, um nur einige zu nennen. Schwarzsein ist kein Monolith.
Dieser Brief wurde von einzelnen Schwarzen Kunstschaffenden geschrieben und unterzeichnet, die sich aus der Notwendigkeit heraus zusammengefunden haben, die unterschiedlichen Erfahrungen des anti-Schwarzen Rassismus in der Schweizer Kunst- und Kulturlandschaft anzusprechen. Wir sind kein Kollektiv. Des Weiteren beziehen wir uns auf Schwarze Künstler*innen, die in der Schweiz leben oder arbeiten. Die Vorstellung, dass Anti-Schwarzer Rassismus nur Menschen mit Migrationshintergrund und nicht-schweizerische Schwarze Kunstschaffenden betrifft, ist falsch. Es gibt Schwarze Schweizer*innen, und Anti-Schwarzer Rassismus ist ein Schweizer Problem. Es gibt keine konstruktive Diskussion, die mit der Frage beginnt, ob es denn Rassismus in der Schweiz wirklich gibt.
Seit Juni 2020 zeigen viele Kunsträume ihre Bereitschaft, sich mit dem Thema Rassismus auseinanderzusetzen, was sich an der deutlichen Zunahme von Podiumsdiskussionen und ähnlichen öffentlichen Veranstaltungen beobachten lässt. Wir möchten jedoch darauf hinweisen, dass bei mehreren Veranstaltungen schädliche Entscheidungen zu Lasten Schwarzer Kunstschaffender getroffen wurden. Zudem sind wir auf einen allgemeinen Widerwillen gestoßen, strukturellen anti-Schwarzen Rassismus anzusprechen. Einzelne von uns mussten sich für ihre Unterschriften auf unserem ersten Brief rechtfertigen und wurden mit Rufschädigung konfrontiert. Dies unterstreicht und bekräftigt die Dringlichkeit einer tieferen Konfrontation mit strukturellen Vorurteilen, die in der weißen Vorherrschaft verwurzelt sind und sich als Anti-Schwarzer Rassismus äußern. Wir werden nicht akzeptieren, dass Antirassismusarbeit zur Profilierung der eigenen Institutionen und Kunsträumen instrumentalisiert wird.
Echte und tiefgreifende Arbeit kann nur geleistet werden, wenn wir, als Individuen und als Mitglieder*innen von Institutionen und Gesellschaften, über unsere Abwehrhaltungen und Schuldgefühle hinausgehen. Es bleibt weiterhin ein dringender, notwendiger Prozess, der mit der Verpflichtung jeder*s Einzelnen von uns beginnt, unsere verinnerlichten Anti-Schwarzen Bias aktiv zu verlernen – dies schließt Verhaltensweisen und Handlungen ein, die von einer sozialisierten Wahrnehmung des Weißseins als Standard geprägt sind. Niemand ist hiervon ausgeschlossen, denn wir werden alle in eine rassistische Gesellschaft hineingeboren. Diese Rassismen proaktiv zu verlernen, ist unsere dringendste und wichtigste Forderung. Sie ist die notwendige Grundlage für alle folgenden Forderungen nach materieller Veränderung:
Berücksichtigung und Einschluss von Schwarzen Kunstschaffenden in Programme, wie Ausstellungen, Residenzen, etc, ein. Dies soll dringend über Programme hinausgehen, die ausschließlich Identitätspolitik, weiße Vorherrschaft oder Rassismus thematisieren. Engagement in tiefgreifenden und nuancierten Auseinandersetzungen mit deren künstlerischen Arbeiten. Verpflichtung Entscheidungen zu treffen, die nährend für die Karriere der Kunstschaffenden sind, einschließlich der Pflege von Beziehungen zu Institutionen, Sammlungen und Kritiker*innen, die für die Künstler*innen und ihre Arbeit relevant sind.

Archivierung von Werken Schwarzer Künstler *innen in allen Sammlungen zum gleichen Standard wie es bei weißen cis-männlichen Gegenstücken gehandhabt wird.

Implementierung einer standardisierten Anti-Rassismus-Klausel[7] in allen Verträgen, die darauf abzielt, dass Arbeitgeber*innen, Arbeitnehmer*innen, Auftraggeber*innen oder anderweitig vertraglich gebundene Mitarbeitende sich dazu verbindlich machen, sich nicht rassistisch zu äussern oder zu handeln.

Professionelle Einrichtungen, die ein Umfeld ermöglichen, in dem Gespräche über erlebten Rassismus oder Vorurteile konstruktiv geführt werden können, wo Abwehrhaltungen als schädlich anerkannt und es als konstruktiver Akt verstanden wird, wenn man bei schädlichem Verhalten zur Verantwortung gezogen wird. Es ist entscheidend, dass die Äußerung rassistischer Erfahrungen ernst genommen wird und nicht zu Prekarisierung, Schubladisierung oder Rufschädigung führt.

Durchführung von regelmäßigen Evaluierungen der internen strukturellen Vorurteile über alle Ebenen hinweg. Anschließende Implementierung notwendiger Maßnahmen mit definierten Zielen zur Verbesserung von Bereichen mit schlechter Leistung.

Anerkennung der Notwendigkeit von Gerechtigkeit gegenüber Gleichberechtigung und konkrete Arbeitsschritte, die dies widerspiegeln.[8]

Halbjährliches Anti-Rassismus-Training durch bezahlte Schwarze Fachpersonen.

Öffentlich zugängliche Antirassismus-Strategien in allen Kunst- und Kulturräumen, einschließlich eines Handlungsplans und der Anforderung einer Gleichstellungs- / Gerechtigkeits-, Diversitäts- und Inklusionsrichtlinien, die regelmäßig bewertet und aktualisiert werden.

Erfordernis einer Anti-Rassismus-Strategie im Rahmen von Bewerbungsprozessen für alle Kunst- und Kulturschaffenden, einschließlich Vermittlungs-, PR- und HR-Positionen.

Anstellung von Schwarzen Kunst- und Kulturfachleuten in leitenden Positionen, z.B. Jurys für Preise, Zulassungen, offene Ausschreibungen usw.
In unserem Fokus auf Anti-Schwarzen Rassismus ist es erforderlich, dem Colorism besondere Aufmerksamkeit zu geben. Dark-skinned Schwarze Personen mit weniger Nähe zum Weisssein müssen bei allen antirassistischen Absichten im Mittelpunkt stehen. Dazu gehört die aktive und laufende Evaluierung davon, ob Schwarze Kunstschaffende mit hellem Hautton im eigenen Kunsthaus Schwarzen Kunstschaffenden mit dunklem Hautton gegenüber vermehrt eine Plattform gegeben wird. 
Wir fordern, dass ähnliche Schritte eingeleitet werden, um die Diskriminierung gegenüber all denen zu bekämpfen, die unter der weißen Vorherrschaft und den ihr entspringenden  Unterdrückungsformen leiden, zu denen Ableismus, Klassismus, Fettphobie, Homophobie, Cisheterosexismus, Altersdiskriminierung, Fremdenfeindlichkeit, religiöse Diskriminierung und Transphobie gehören.
Die vor uns liegende Arbeit bleibt klar: Praktiken und Visionen sind entweder auf Antirassismus ausgerichtet oder sie sind es nicht. Kunsthäuser können sich entweder mit dem gegenwärtigen kolonialistischen System selbstzufrieden geben oder sich auf den aktiven Prozess einlassen, rassistische Strukturen und die Ungerechtigkeiten, die sie aufrechterhalten, anzufechten. Es gibt kein Dazwischen und es bleibt weiterhin dringlich.
Abschliessend sind wir Kunstschaffende, die unserer Arbeit in den von uns gewählten Berufen nachgehen wollen. Dieser Brief kommt aus dem Bedürfnis nach sichereren beruflichen Bedingungen, die frei von Diskriminierung sind. Dieser Brief ist nicht Teil unserer Praxis.
[5] #BlackoutTuesday war eine kollektive Aktion, um sich auf den sozialen Medien gegen Rassismus und Polizeigewalt lautstark zu machen. "Initiiert von zwei Musikindustrie-Insidern, war das Ziel die gesamte Industrie als Reaktion auf die landesweiten Proteste während eines Dienstags zum Stillstand zu bringen. Dies wandelte sich über Nacht in eine ungezielte Aktion um, die darauf hinauslief, das Instagram und andere Plattformen mit zahlreichen schwarzen Quadraten überflutet wurde." (freie Übersetzung) https://www.nytimes.com/2020/06/02/arts/music/what-blackout-tuesday.html
[6] https://www.newyorker.com/culture/cultural-comment/the-second-act-of-social-media-activism
[7] Julia Wissert, Sonja Laaser, Banafshe Hourmazdi und Golschan Ahmad Haschemi haben eine Vorlage der Anti-Rassismus-Klausel entworfen, die sich auf den Theaterkontext bezieht. Diese ist unterliegt der Rechtsprechung des Deutschen Gerichts: https://www.antirassismusklausel.de. Sie kann jedoch einfach für den Kontext der zeitgenössischen Kunst in der Schweiz angepasst werden.
[8]Gerechtigkeit fördert den Einsatz von massgeschneiderten Mitteln um Ungleichberechtigungen und die daraus resultierenden Zugangsbarrieren zu identifizieren, anzugehen und zu korrigieren, währenddessen der Ansatz der Gleichberechtigung, obwohl er auf der Auffassung beruht, dass alle gleich behandelt werden sollten, strukturelle Zugangsbarrieren nicht in Betracht zieht, und diese somit oft aufrecht erhält.

****
Suisse, 9 juin 2021
Le 9 juin 2020, nous, plus de 60 travailleur·x·euses Noir·x·es de l'art et de la culture de toute la Suisse, avions rédigé collectivement une lettre ouverte. À l'époque, il y avait eu une immense vague mondiale de solidarité avec le mouvement Black Lives Matter. Notre lettre ouverte était spécifiquement adressée aux 76 espaces d'art suisses qui avaient participé à ce que l'on connaît aujourd'hui sous le nom de #BlackOutTuesday[9].
Dans notre lettre nous disions que, bien qu'ayant apprécié les marques de soutien, nous avions conscience que « l'activisme sur les réseaux sociaux »[10] ou a généralement pas au-delà de déclarations publiques distantes et sans effet. Nous relevions le fait que le racisme structurel – qui peut se manifester sous la forme de micro-agressions, de racisme explicite, de « gaslighting », d'attitudes et de politiques institutionnelles d'exclusion, de centrage sur la blanchité, de violences policières, de crimes de haine, de demande de travail gratuit, d'exotisation et d'(hyper)sexualisation, etc. – est bien présent et répandu ici en Suisse. Beaucoup d'entre nous avons, dans nos vies quotidiennes, fait l'expérience du racisme dans le cadre de nos engagements professionnels et de nos interactions en tant qu'artistes et travailleur·x·euses de la culture.
Nous avions encouragé les espaces d'art auxquels nous nous étions adressé·x·es à s'investir plus activement dans la mise en place de pratiques antiracistes. Nous avions rédigé, en guise d'outil, une série de questions permettant d'identifier les discriminations à l'œuvre au sein des structures. Nous avions demandé à nos destinataires de partager publiquement les réponses à ces questions par le biais de leurs propres canaux de diffusion dans le but d'encourager d'autres espaces d'art à mettre en pratique des principes de transparence et de responsabilité. 
Depuis le 9 juin 2020, sur les 76 espaces d'art ayant exprimé leur solidarité avec le mouvement Black Lives Matter, seuls 3 ont partagé leur réponse à notre lettre publiquement. Les 73 autres institutions ont réagi de différentes manières, toutes décevantes. L'une d'entre elles consistait à attendre que nous fournissions du travail gratuit sous la forme de réunions informelles, ceci au lieu de faire appel à des expert·x·es des problématiques antiracistes et de les rémunérer. La réponse la plus courante a été de ne pas nous répondre du tout
Ce n'est malheureusement pas une surprise. Nous sommes depuis longtemps habitué·x·es au racisme structurel et au silence permanent qui règne autour de la suprématie blanche et du racisme anti-Noir en Suisse. Cela reste néanmoins très décourageant. De plus, nous remarquons que de nombreux petits espaces indépendants se sentent exclus de ces conversations car ils fonctionnent de manière très informelle. Nous sommes épuisé·x·es par le manque persistant de prise de responsabilité.
Notre société, dans sa forme actuelle, repose sur le racisme anti-Noir qui s'est infiltré dans ses structures et sa culture d'une manière qui ne peut être comparée au racisme vécu par les personnes racisées non Noires ou à la xénophobie à laquelle sont confrontées de nombreuses personnes d'origine étrangère. Les oppressions sont multiples et complexes. Elles nécessitent un vocabulaire précis. C'est pourquoi nous insistons sur la spécificité de notre vocabulaire en distinguant le racisme anti-Noir des autres formes de discrimination. Nous le faisons dans le but de renforcer les liens de solidarité entre les personnes Noires et les communautés racisées non Noires, ainsi que de mettre en lumière l'étendue du racisme anti-Noir ambiant. Nous en élargissons la compréhension afin prendre en considération les expériences très diverses des personnes Noires en Suisse et qui peuvent se situer à l'intersection du colorisme, le handicap, la xénophobie, la misogynoir, le mégenrage, l'hétérosexisme, le cissexisme, le classisme, la transphobie et le statut juridique, pour n'en citer que quelques-unes. La Blackness n'est pas un concept monolithique.
Cette lettre a été écrite et signée par des artistes Noir·x·es et des travailleur·x·euses culturel·x·les qui se sont réuni·x·es pour aborder les diverses expériences du racisme anti-Noir dans le domaine des arts en Suisse. Nous ne sommes pas un collectif. De plus, nous faisons référence aux artistes Noir·x·es vivant ou travaillant en Suisse. L'idée que le racisme anti-Noir n'affecte que les personnes Noires issues de l'immigration et celles qui ne sont pas suisses est fausse. Il existe aussi des suisses Noir·x·es, et le racisme anti-Noir est un problème suisse. Une discussion productive à propos du racisme en Suisse ne peut pas commencer par une remise en question de son existence.
Depuis juin 2020, de nombreux espaces d'art ont fait part de leur volonté de se saisir de la race comme thème, ce dont témoigne l'augmentation significative des tables rondes et autres événements publics sur le sujet. Nous tenons à souligner que des décisions dommageables ont été prises lors de plusieurs événements, et ce au détriment des travailleur·x·euses de l'art Noir·x·es. Nous avons constaté une réticence générale à aborder le racisme structurel anti-Noir et nous trouvons cela très violent. Certain·x·es d'entre nous ont dû justifier leur signature à notre précédente lettre et ont été victimes de diffamation. Ces expériences prouvent la nécessité de se confronter de manière sérieuse aux angles morts structurels prenant racine dans la suprématie blanche qui ont pour conséquence le racisme anti-Noir. Nous n'accepterons pas que l'antiracisme soit coopté dans le but de revaloriser votre image.
Un travail sincère et profond ne peut être accompli que si nous, en tant qu'individus et membres d'institutions et de collectivités, parvenons à dépasser une attitude défensive et un sentiment de culpabilité. Il s'agit d'un processus urgent et nécessaire et qui consiste à ce que chacun·x·e s'engage à désapprendre le racisme anti-Noir intériorisé, un racisme anti-Noir fait de comportements et d'actions découlant d'une perception de la blanchité comme une valeur par défaut. Cela est dû au fait que nous sommes né·x·es dans une société intrinsèquement raciste et anti-Noir. Ce désapprentissage général du racisme anti-Noir est notre demande la plus urgente et la plus cruciale. Il est au fondement des revendications que voici et qui appellent à un changement matériel concret :
Inclure les acteur·x·trices culturel·x·les Noir·x·es dans les programmations, mais aussi dans des programmations autres que celles qui traitent des politiques de l'identité, de la suprématie blanche ou du racisme. S'intéresser de manière approfondie à leur travail et s'engager à promouvoir leur carrière en favorisant les relations enrichissantes et pertinentes avec les institutions, les collectionneur·x·euses et les auteur·x·trices. 

Archiver de manière adéquate les œuvres des artistes Noir·x·es dans les collections. Cela devrait se faire de la même manière que pour leurs homologues hommes blancs cis.

Ajouter une clause antiraciste[11] standard à tous les contrats afin de responsabiliser les employeur·x·euses, les employé·x·es, les commissaires ou les autres collaborateur·x·rices liés par contrat.

Mettre en place des environnements de travail au sein desquels sont encouragées des conversations constructives à propos du racisme et des discriminations vécues. Des environnements dans lesquels les attitudes défensives sont reconnues comme étant dommageables et la prise de responsabilité considérée comme un acte qui profite à tou·x·tes. Il est essentiel que le partage de ces expériences soit pris au sérieux et n'entraîne pas de précarité, de mise à l'écart ou de diffamation.

Instaurer des sessions d'évaluation régulières, et mettre en application de manière immédiate les mesures nécessaires afin d'améliorer les points faibles, ceci avec des objectifs clairement définis.

Reconnaître les principes d'équité plutôt que d'égalité[12] et mettre en place des mesures concrètes pour y parvenir.

Instaurer des formation semestrielle sur l'antiracisme par des expert·x·es Noir·x·es rémunéré·x·es.

Mettre en place des stratégies de lutte contre le racisme qui sont accessibles au public dans tous les espaces d'art, y compris un plan d'action et une charte en faveur de l'égalité/équité, de la diversité et de l'inclusion, qui sont évalués et actualisés régulièrement.

Exiger une stratégie antiraciste pour chaque processus de recrutement et ceci pour tou·x·tes les professionnel·x·les de l'art, y compris pour les postes de médiation, de relations publiques et de ressources humaines.

Recruter des professionnel·x·les de l'art Noir·x·es à des postes de direction, et les inclure dans les jurys de prix, d'admission, d'appels à projets, etc.
Dans le cadre de notre réflexion sur le racisme anti-Noir, il est impératif d'accorder une attention particulière au colorisme. Les personnes Noires à la peau foncée, qui sont moins susceptibles d'être proches de la blanchité, doivent être au centre de toutes les intentions antiracistes. Cela implique d'évaluer activement qui bénéficie d'un droit d'accès et d'une plateforme de visibilité.
Nous demandons que des mesures similaires soient mises en place pour lutter contre les discriminations à l'encontre de toutes les personnes qui souffrent de la suprématie blanche et de ses oppressions entrecroisées, notamment le handicap, le classisme, la grossophobie, l'homophobie, l'hétérosexisme, le cissexisme, l'âgisme, la xénophobie, les discriminations religieuses et la transphobie.
Le travail qui nous attend est clair : les pratiques et les discours doivent à présent s'orienter vers l'antiracisme. On peut se satisfaire du système colonialiste actuel ou alors s'engager dans un processus actif de dénonciation des structures racistes et des injustices qu'elles perpétuent. Il n'y a pas d'entre-deux, la situation est urgente. 
Pour conclure, nous sommes des artistes et des travailleur·x·euses de l'art qui désirent poursuivre notre travail dans les carrières que nous avons choisies. Cette lettre émane d'un besoin de disposer d'un environnement professionnel plus sûr et exempt de discrimination. Cette lettre ne fait pas partie de nos pratiques artistiques.
[9]Le #BlackoutTuesday était une action collective de protestation contre le racisme et les violences policières, diffusée sur les réseaux sociaux. « Ce qui a commencé comme une tentative de deux professionnels de la musique de mettre en pause un mardi le déroulement habituel des affaires dans l'ensemble de l'industrie, et ceci en réponse aux protestations qui ont balayé la nation, s'est élargi et transformé pendant la nuit sur les réseaux sociaux en une action moins ciblée, résultant en une mer de carrés noirs sur Instagram et les autres plateformes. » https://www.nytimes.com/2020/06/02/arts/music/what-blackout-tuesday.html
[10] https://www.newyorker.com/culture/cultural-comment/the-second-act-of-social-media-activism
[11]Julia Wissert, Sonja Laaser, Banafshe Hourmazdi, Golschan Ahmad Haschemi ont élaboré un projet de clause antiraciste spécifiquement adapté au contexte théâtral sous juridiction allemande : https://www.antirassismusklausel.de. Ce projet peut être utilisé comme modèle et adapté facilement au contexte des arts en Suisse.
[12]L'équité encourage l'utilisation d'outils personnalisés qui identifient, abordent et corrigent l'inégalité et les obstacles à l'accès qui en résultent, tandis qu'une approche d'égalité, bien que fondée sur la croyance que tout le monde devrait être traité de la même manière, ne tient pas compte des obstacles structurels et perpétue donc bien souvent l'inégalité existante.
****
Svizzera, 9 giugno 2021
Il 9 giugno 2020, noi, oltre 60 operator* dell'arte e della cultura ner* in tutta la Svizzera, abbiamo scritto collettivamente una lettera aperta. A quel tempo, c'era una massiccia ondata globale di solidarietà al movimento Black Lives Matter. La nostra lettera aperta è stata specificamente indirizzata agli oltre 76 spazi d'arte svizzeri che hanno partecipato a quello che oggi è noto come #BlackOutTuesday[13]
Nella nostra lettera, abbiamo espresso che, sebbene apprezziamo la manifestazione di sostegno, siamo consapevol* che ciò che ora viene definito "attivismo sui social media"[14] che non si traduce al di là di dichiarazioni pubbliche distanti e inattive. Abbiamo notato che il razzismo strutturale – che può emergere come microaggressioni, razzismo esplicito, gaslighting, atteggiamenti e politiche istituzionali escludenti, centratura della bianchezza, brutalità della polizia, crimini d'odio, richiesta di lavoro gratuito, esotizzazione e (iper)sessualizzazione ecc. – è vivo e vegeto, qui in Svizzera. Di conseguenza, nella nostra vita quotidiana molt* di noi hanno sperimentato il razzismo nelle proprie attività e interazioni professionali in quanto artist* e operator* culturali.
Gli spazi d'arte interessati sono stati incoraggiati a investire più attivamente nel processo necessario per diventare più antirazzisti. Come strumento, abbiamo incluso una serie di domande create per supportare il lavoro necessario per identificare i pregiudizi all'interno delle proprie strutture. Abbiamo chiesto ai nostri destinatari di condividere pubblicamente le risposte a queste domande attraverso i propri canali nel tentativo di incoraggiare altri spazi artistici a praticare trasparenza e responsabilità.
Dal 9 giugno 2020, dei 76 spazi d'arte destinatari della lettera, ciascuno dei quali aveva precedentemente dichiarato la propria solidarietà al movimento Black Lives Matter, solo tre hanno condiviso pubblicamente le proprie risposte. Le altre 73 istituzioni rimanenti hanno fornito un panorama di reazioni frustranti. Ciò includeva aspettarsi il nostro lavoro gratuito sotto forma di incontri informali invece di sollecitare consulenti pagati sulla decostruzione di strutture razziste. La risposta di gran lunga più diffusa, in ogni caso, è stata semplicemente nessuna risposta in assoluto.
Ciò, purtroppo, non rappresenta una sorpresa. Conosciamo da tempo il razzismo strutturale e il continuo silenzio che circonda la supremazia bianca e il razzismo anti-nerezza in Svizzera. È comunque molto scoraggiante. Inoltre, notiamo che molti spazi gestiti da artist* spesso si sentono esenti da queste conversazioni poiché operano in modo molto informale. Siamo esaust* per la persistente mancanza di responsabilità.
La nostra società, nella sua forma attuale, si basa sull'anti-nerezza che è penetrata nelle sue strutture e nella sua cultura in un modo che non può essere paragonato al razzismo sperimentato dalle persone di colore non nere o alla xenofobia affrontata da molte persone di eredità non svizzere. Le oppressioni sono sfaccettate e complesse. Hanno bisogno di un vocabolario preciso. Questo è il motivo per cui insistiamo sulla specificità del nostro vocabolario distinguendo il razzismo anti-nero e altre forme di discriminazione. Lo facciamo nel tentativo di far luce sia sulla necessaria solidarietà tra le persone nere e le comunità di colore non nere, nonché sulla vera profondità dell'anti-nerezza sempre pervasiva. Usiamo la nostra comprensione dell'anti-nerezza al fine di riconoscere e affrontare le intersezioni di nerezza sperimentate in Svizzera. Ciò include esperienze intersezionali di persone di colore quali colorismo, abilismo, xenofobia, misoginia, misgendering, cis-eteronormatività, classismo, transfobia e status legale per citarne alcuni. La nerezza non è un monolite. 
Questa lettera è stata scritta e firmata da singol* artist* ner* e professionist* della cultura che si sono unit* per la necessità di affrontare le diverse esperienze di razzismo anti-nero nelle arti in Svizzera. Non siamo un collettivo. Inoltre, ci riferiamo a* artist* ner* che vivono o lavorano in Svizzera. L'idea che il razzismo anti-nero colpisca solo il sostentamento delle persone con background migratorio e professionist* ner* non svizzeri è falsa. Esistono anche svizzer* ner* e il razzismo anti-nero è un problema svizzero. Non esiste una discussione produttiva che inizi chiedendosi se il razzismo esista o meno in Svizzera.
Da giugno 2020, molti spazi d'arte hanno mostrato la loro volontà di impegnarsi ponendo il tema della razza come argomento, ciò si vede dal significativo aumento dei dibattiti e di eventi pubblici simili. Vorremmo sottolineare che decisioni dannose sono state prese in diversi eventi a spese de* lavorator* dell'arte ner*. Abbiamo riscontrato una riluttanza generale ad affrontare l'anti-nerezza strutturale, che sperimentiamo come violenta. Alcun* di noi hanno dovuto giustificare le proprie firme sulla nostra lettera precedente e hanno subito diffamazione. Ciò enfatizza e ribadisce la necessità di un confronto più profondo con i punti ciechi, strutturali e radicati, nella supremazia bianca e che risultano nell'anti-nerezza. Non accetteremo che l'antirazzismo venga cooptato nel tentativo di aumentare il valore del proprio profilo pubblico.
Un lavoro autentico e profondo può essere svolto solo se noi, come individui e costituenti di istituzioni e società, andiamo oltre l'atteggiamento difensivo e il senso di colpa. Rimane un processo urgente e necessario che inizia con l'impegno da parte di ciascun* di noi di disimparare la nostra anti-nerezza interiorizzata, che include comportamenti e azioni che sono conformati da una percezione socializzata della bianchezza come predefinita. Questo perché siamo nat* in una società intrinsecamente razzista e anti-nera. Disimparare ciò è la nostra richiesta più urgente e cruciale. È il fondamento necessario per tutte le successive richieste di cambiamento materiale, per quelle che sono le diverse applicazioni:
Includere professionist* ner* nei programmi. Includerl* in ambiti diversi oltre a quelli che affrontano politiche identitarie, la supremazia bianca o il razzismo. Dedicarsi a un impegno profondo e commisto al loro lavoro artistico. Impegnarsi a prendere decisioni di carriera arricchenti, inclusa la promozione di relazioni con istituzioni, collezionist* e scrittor* rilevant* per chi fa arte e il loro lavoro.

Archiviare correttamente le opere degl* artist* ner* nelle collezioni. Questo dovrebbe essere fatto allo stesso modo per le controparti bianche cis-maschili nelle collezioni.

Attuazione di una clausola antirazzista[15] standardizzata in tutti i contratti, che mira a responsabilizzare datori di lavoro, dipendenti, commissari o collaboratori altrimenti vincolati contrattualmente.

Ambienti professionali che facilitano gli spazi in cui le conversazioni sul razzismo o sui pregiudizi sperimentati possono essere svolte in modo produttivo, in cui l'atteggiamento difensivo è riconosciuto come dannoso e la richiesta di responsabilità è intesa come un atto reciprocamente vantaggioso. È fondamentale che la voce di queste esperienze sia presa sul serio e non si traduca in precarietà, incasellamento o diffamazione.

Realizzazione di sessioni di valutazione periodiche a tutti i livelli. Attuazione successiva delle misure necessarie per migliorare le aree di scarso rendimento con obiettivi definiti.

Riconoscimento della necessità di equità rispetto all'uguaglianza e fasi operative tangibili in tal senso.[16]

Formazione semestrale contro il razzismo da parte di consulent* espert* ner* retribuit*.

Strategie antirazziste pubblicamente accessibili in tutti gli spazi artistici, compreso un piano d'azione e introduzione del requisito di una politica di uguaglianza/equità/diversità e inclusione, che vengano valutati e aggiornati regolarmente.

Necessità di una strategia antirazzista come parte dei processi di reclutamento per tutte le professionalità dell'arte, comprese le posizioni di mediazione, pubbliche relazioni e risorse umane.

Assunzione di professionist* dell'arte ner* in posizioni apicali e per que* professionist* da inserire in giurie per premi, ammissioni, bandi aperti, ecc.
Nella nostra attenzione all'anti-nerezza, è imperativo prestare particolare attenzione al colorismo. Le persone nere dalla pelle scura con meno vicinanza alla bianchezza devono essere centrat* in tutte le intenzioni antirazziste. Ciò include la valutazione attiva di chi ha accesso e risalto alla scena.
Chiediamo che vengano messe in atto misure simili per affrontare i pregiudizi contro chiunque soffra sotto la supremazia bianca e le sue oppressioni intersecanti, che includono abilismo, classismo, grassofobia, omofobia, cis-eteronormatività, ageismo, xenofobia, discriminazione religiosa e transfobia.
Il lavoro che ci aspetta resta chiaro: pratiche e visioni o sono orientate all'antirazzismo o non lo sono. Si può essere compiacenti con l'attuale sistema colonialista o ci si può impegnare nel processo attivo di sfida alle strutture razziste e alle ingiustizie che perpetuano. Non c'è via di mezzo e ciò resta un'emergenza.
In conclusione, siamo artist* e operator* cultural* che cercano di perseguire il proprio lavoro nelle carriere scelte. Questa lettera nasce dall'esigenza di ambienti professionali più sicuri e liberi da discriminazioni. Questa lettera non fa parte delle nostre pratiche.
[13]#BlackoutTuesday è stata un'azione collettiva per protestare contro il razzismo e la brutalità della polizia, messa in scena sui social media. "Quello che è iniziato come un tentativo di due addetti ai lavori della musica di mettere in pausa i soliti affari in tutto il settore un martedì, in risposta alle proteste che stanno dilagando nella nazione, si è ampliato e trasformato durante la notte sui social media in un'azione meno mirata, risultando in un mare di caselle nere su Instagram e altre piattaforme. https://www.nytimes.com/2020/06/02/arts/music/what-blackout-tuesday.html
[14] https://www.newyorker.com/culture/cultural-comment/the-second-act-of-social-media-activism
[15]Julia Wissert, Sonja Laaser, Banafshe Hourmazdi, Golschan Ahmad Haschemi hanno sviluppato una bozza di clausola antirazzista su misura per il contesto teatrale sotto la giurisdizione tedesca: https://www.antirassismusklausel.de. Questo può essere usato come modello e adattato facilmente al contesto delle arti contemporanee in Svizzera
[16]L'equità incoraggia l'uso di strumenti personalizzati che identificano, affrontano e correggono la disuguaglianza e le conseguenti barriere di accesso, mentre un approccio all'uguaglianza, sebbene basato sulla convinzione che tutti dovrebbero essere trattati allo stesso modo, ignora le barriere strutturali e quindi spesso perpetua la disuguaglianza esistente.